The Southern Mallorca - Cap de Ses Salines and the Salines des Salobrar
The southern tip of Mallorca is a remarkably unspoilt and picturesque part of the island of Mallorca. The rich mosaic of scrub, farmland, dry stone walls and coastline between Ses Salines and the lighthouse at the Cap de Ses Salines, with views of Cabrera island make this a really enjoyable birding itinerary.
Meanwhile the bird-rich saltpans of the Salines des Salobrar cannot be overlooked by the visiting birder, offering as they do an excellent opportunity to see a wide variety of waders, ducks, herons and other water birds.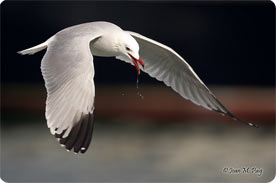 Audouin's Gull - Photo by Joan Manel Puig
Bird Species that can be found on the S'Albufera Natural Park:
Cap de Ses Salines Itinerary: Balearic Shearwater, Cory's Shearwater, Shag, Stone Curlew, Audouin's Gull, Red-legged Partridge, Hoopoe, Tawny Pipit, Thekla Lark, Short-toed Lark, Fan-tailed Warbler, Balearic Warbler, Sardinian Warbler, Woodchat Shrike, Serin.
Salines des Salobrar: Little Egret, Greater Flamingo, Shelduck, Water Rail, Quail, Avocet, Black-winged Stilt, Collared Pratincole, Grey Plover, Kentish Plover, Little Ringed Plover, Ringed Plover, Little Stint, Temminck's Stint, Dunlin, Curlew Sandpiper, Marsh Sandpiper, Wood Sandpiper, Redshank, Spotted Redshank, Greenshank, Ruff, Curlew, Audouin's Gull, Slender-billed Gull, Gull-billed Tern, Black Tern, White-winged Tern, Whiskered Tern, Bee-eater, Yellow Wagtail.