The Boquer Valley and the Formentor Peninsula
A walk along the Boquer valley followed by a drive to the Cap de Formentor lighthouse suggests itself as the ideal way for the visiting birder to get the most out of this exciting and often stunning area, the northeast tip of Mallorca.
Birdwise its credentials are beyond question, offering as it does excellent opportunities for observing Balearic Warbler and Eleonora's Falcon, and for being one of the best areas on the island for finding migratory birds in both spring and autumn.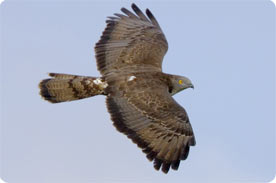 Honey Buzzard - Photo by DOcciato
Bird Species that can be found on the Boquer Valley and Formentor Peninsula:
Boquer Valley: Egyptian Vulture, Black Vulture, Eleonora's Falcon, Hoopoe, Wryneck, Crag Martin, Blue Rock Thrush, Sardinian Warbler, Balearic Warbler, Raven, Cirl Bunting.
Formentor Peninsula: Eleonora's Falcon, Peregrine Falcon, Pallid Swift, Crag Martin, Nightingale, Blue Rock Thrush, Balearic Warbler, Firecrest, Raven, Crossbill.
Some migrants: Honey Buzzard, Black Kite, Osprey, Marsh Harrier, Turtle Dove, Hoopoe, Bee-eater, Red-throated Pipit, Black-eared Wheatear, Redstart, Rock Thrush, Subalpine Warbler, Western Bonelli's Warbler, Pied Flycatcher, Spotted Flycatcher, Golden Oriole, Woodchat Shrike, Ortolan Bunting.